Election Day Chicken Stock
Go vote and then fill your home with the smell of home cooking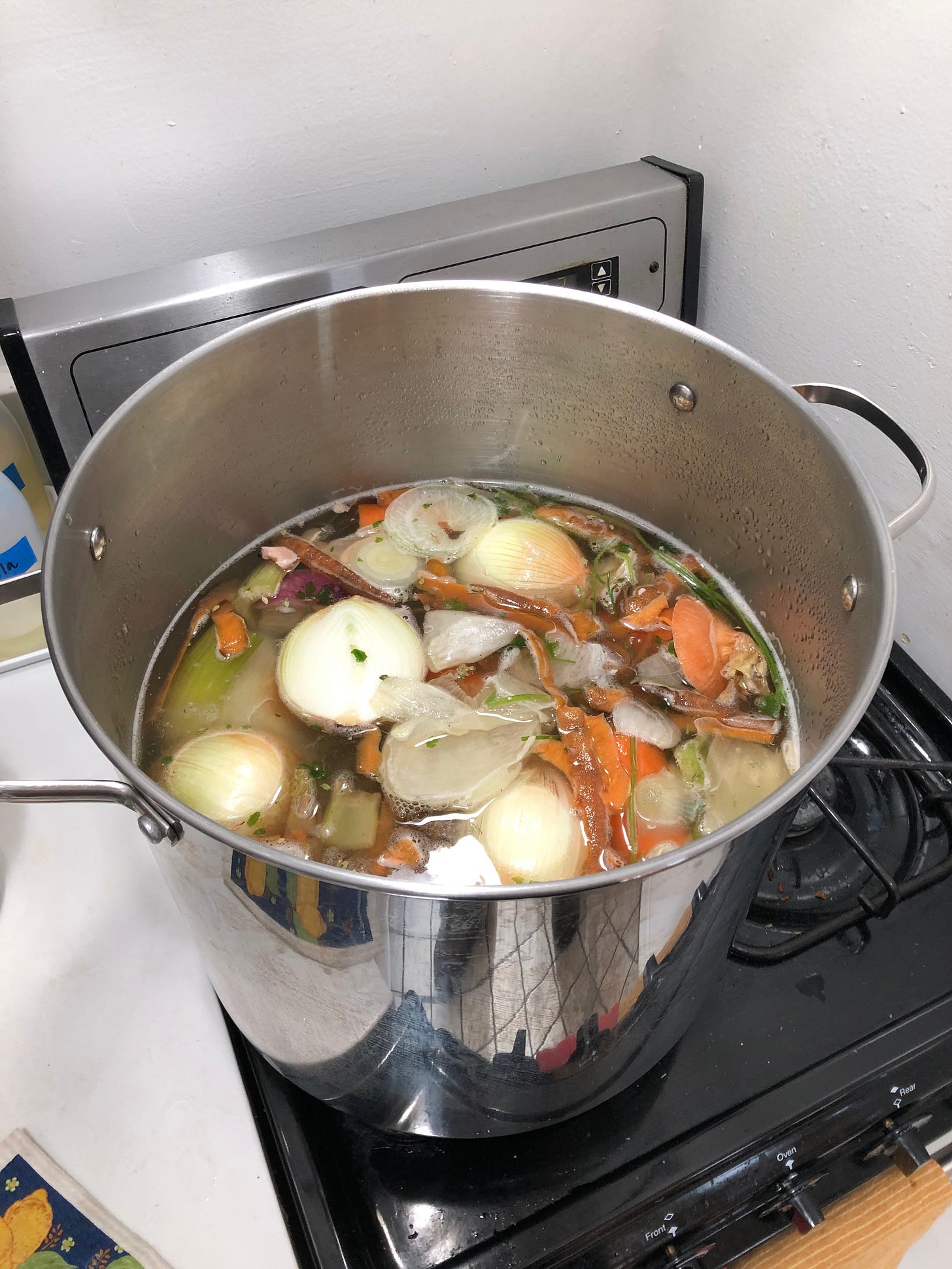 Well, here we are folks. After four years of thinking "Seriously, WHAT NOW?" we find ourselves on the day of the single most important election in American history, and besides voting, encouraging people to vote, and obsessively monitoring the news, there's not really much left that we can do. My wife and I even signed up to be poll workers in NYC, but the government couldn't be bothered to respond to our applications, so its not like we didn't try.
I didn't officially plan to take the day off, and my wife is certainly working today, but it became clear sometime last night that I wasn't going to get anything concrete accomplished today. In the absence of structured voting-related activities, and finding myself twisted into an anxious knot, the only logical move was to start making chicken stock.
"Election Day Chicken Stock" isn't any different from my regular chicken stock, but today is Election Day and I want our house to smell like the happiness. After all, one of the best benefits of making stock is that it fills your home with an incredible, warm, nurturing aroma, and that's exactly the sort of thing that we need today.
Making chicken stock is also a boon for our household because it helps to empty out our freezer. You see, in an effort to combat food waste whenever I roast a chicken (or make something that involves deboning a chicken) I save the bones or carcass in a ziplock bag in my freezer. I also do the same with vegetable scraps, and fill a freezer bag with carrot peelings and ends, celery tops and ends, onion peels and ends, parsley and parsley stalks. If when I empty the bag it doesn't seem like quite enough veg I'll then throw in some chunked up carrots and a few onions that have been sliced in half. Add in a few bay leaves, some whole peppercorns, a tablespoon or so of dried thyme (or fresh if you have it), and then just a bit of rosemary (either fresh or dried) and the pot is ready for simmering.
I wish I could give you a tested, dialed in recipe for this stock, but since I fill the bags with scraps the exact proportions change pretty much every time I make it. I do work from a rough formula though (based on my personal flavor preferences), and I'm listing some directions below. Bear in mind that understanding how ingredients contribute flavor will also allow you to tailor your own stock to your personal preferences.
The following volume guidelines syncs up with my largest stock pot, which I believe is around 10-12 quarts. Most people don't own a pot this size, and if you want to replicate my stock you may need to scale down this recipe. At some point in the future I'll produce a version of this that's more specifically tested and geared towards home cooks with more typical pot sizes.
---
Think this is the kind of election-related content others might like? Or just like chicken?
---
Ingredient guidelines
Chicken bones contribute, obviously, chicken flavor. Roasted bones are more flavorful than raw, but if all you've got is raw bones that's not at all a problem. Using chicken pieces with meat and fat still attached (such as chicken wings, wing tips, rib cages, back bones, and etc.) will add more flavor, and definitely add more fat. And as you gently cook the chicken you'll extract collagen, which gives the stock that silky texture. I'd recommend skimming any resulting fat from the surface of the chicken stock once it's cooled and then use that fat to fry eggs or potatoes, or to spread on bread.

Onions are essential, and provide flavor, aroma, depth, sweetness, and color. If you made a stock with just onions and no other ingredients it would probably still be amazing. Using a large proportion of onion skins will give you the flavor you want but will also make your stock dramatically darker. After all, onion skins (and the papery peels) are used in some cultures to make natural dyes. I rather like the dark yellow color, but if you don't make sure you favor onion flesh over onion peels. And bear in mind that onion peels don't seem to contribute any flavor, so adding them will only serve to influence color. I generally try to minimize my use of the papery bits and stick just to the fibrous, meatier peels.

Carrots contribute sweetness, flavor, depth, aroma, and color. Personal experience suggests using peelings will result in a stock that's darker in color than if you'd used peeled carrots. I really don't care what color my chicken stock is, so that's not an issue for me.

Celery provides flavor and aroma. You need to be careful with celery as the vegetable undertone it grants can be overpowering if you use too much. I generally shoot for around 2-3 stalks worth for a large pot of stock. If you really like celery, feel free to use more.

Parsley contributes an herbal vegetal flavor, and some aroma. I use just the stalks here, which I save from preparations that only call for leaves, but if you have stalks with the leaves they'll only serve to bump up the flavor. I'd be relatively sparing with these as they carry a remarkable amount of flavor in a small package; just a sparse handful will do, unless you really love the flavor of parsley.

Bay leaves provide aroma and some depth. Just use two or three, they're here just to provide an undercurrent of flavor. And feel free to use any little broken bits you may have, since the stock gets strained this is a good opportunity to use those little bits left in the bottom of the jar or bag. If you need to buy some, Rancho Gordo has great bay leaves.

Thyme provides a flavor I find is nice and seasonal, and which complements the flavor of chicken. Throw in a few fresh stalks, or around a tablespoon of dried thyme.

The same rationale goes for rosemary, although this is an herb that can be extremely overwhelming. Be careful! A teaspoon worth, dried, is more than enough, and fresh is even more potent. I'd also recommend skipping it entirely if you're on the fence.

Black peppercorns provide just a hint of heat, flavor, and depending on the quality of your spices, some fruity complexity. I swear by the peppercorns from Burlap & Barrel, but the distinct peppercorn flavor will definitely get lost in the stock, so don't feel like you should use your best stuff.

Diamond brand kosher salt is one of the most essential ingredients, but should be added at the conclusion of cooking, before storage. That way you can really dial in the flavor and make sure it's not either under-or-over seasoned. If you don't have diamond brand, please use sea salt. I do not ever recommend using Morton's kosher salt, both because I think it has a dreadful texture and because it contains anti-clumping additives, which adds an incredibly unpleasant white cloudiness when it's added to liquids.

MSG is something I recommend adding, but certainly isn't a requirement. MSG provides a savory roundness. It won't hurt you, and there's (currently) no actual evidence that MSG sensitivity is a real condition.
Some rough proportions (for 10ish quarts of stock)
Try to use around 3 pounds of chicken bones, if not more.

Around four onions (either scraps, whole onions cut in half, or a combination).

Around four carrots (whole carrots cut into chunks, carrots tops/ends/peelings, or a combination).

Around 3 stalks of celery (whole stalks or tops/ends, or a combination).

A small handful of parsley stalks (maybe 6-8 stalks, depending on length. Remember: less is more here, so if you're unsure of volume err on the side of caution).

3 bay leaves, or an equivalent amount of dried, crumbled bay leaf bits from the bottom of the bag or container.

Around 2 stalks of fresh thyme, or 1 tablespoon of dried thyme.

A scant teaspoon of dried rosemary, or 1/2 a teaspoon of fresh rosemary. You want just a hint of rosemary flavor.

1/2 tablespoon of whole black peppercorns (fresh peppercorns please, those faded, dried up corns that look like tiny owl droppings are basically flavorless).

Diamond brand kosher salt to taste. You'll have to figure out the proportions for yourself because, given my rather loose ingredient proportions, I really don't know how much salt you'll need.

Around 1 tablespoon MSG total. Bear in mind that MSG contains salt, so you'll want to balance any MSG you use against any salt you use.
Cooking guidelines
Combine all of your ingredients in a large 10-12 quart stockpot and cover with water, with the water rising around 1.5 inches over the top of your ingredients. Cover, bring to a low boil, and then decrease heat to a gentle murmur. Leave covered and cook for a minimum of 4-6 hours, or until you're satisfied that you've extracted as much flavor as you can from the ingredients. More time is better than less.
After the cooking is completed turn off the heat and remove the lid, and leave the stock to cool and settle. As it cools the solid ingredients will settle to the bottom of the pot. Use a ladle to remove the stock, doing your best not to disturb the settled solids. Once you've removed as much clarified stock as you can, feel free to place a large strainer over a bowl and then either ladle or pour out the bones and vegetables, to extract the remaining stock. It'll be extremely cloudy, but also very delicious, and if you don't care about the aesthetics I can't think of any reason not to use that stock.
Salt your stock and add any MSG after the stock is left to cool, but before it cools down. Taste, taste, taste to make sure you don't under-or-over season.
Storage
I recommend storing stock in quart- or pint-sized deli containers or mason jars. You can also store cooled stock in equivalently sized ziplock bags, which you can freeze flat and stack on top of each other in the freezer (this is what we do). Stock will last around a week or so in the fridge, or many months in the freezer.
Please do not freeze mason jars. While it's possible to freeze jars with liquid in them, assuming you don't fill them too full, the risk of the glass shattering simply isn't worth it, and the sort of rounded shape of most jars means they take up a lot of freezer space. Use ziplock-style freezer bags, or deli containers.
And when you freeze your stock, do yourself a favor and freeze it in volumes that makes sense for your usage. Do you typically only need a cup or two at a time? Then freeze your stock in those volumes. Do you use a quart at at time? Freeze it by the quart.
---
Have questions or thoughts?
---
Not already a subscriber? Please sign up. I basically work for table scraps and this newsletter might some day allow me to be creatively (and financially) independent.
---
Your New York Minute: